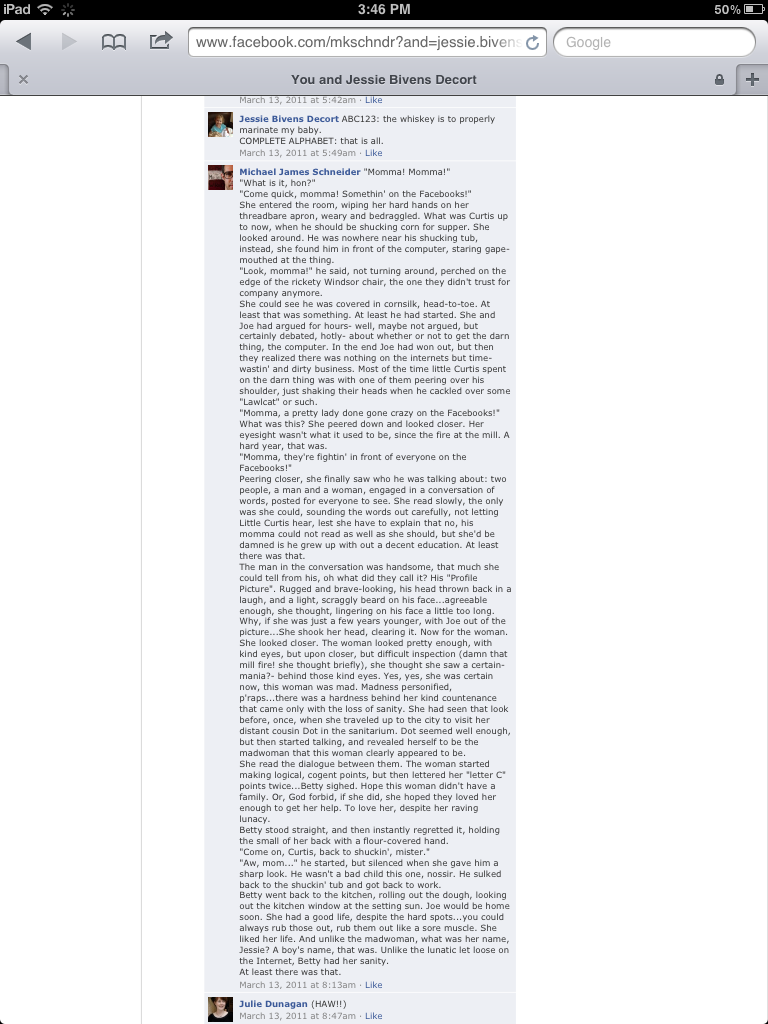 This was a snarky comment I wrote on a social network in response to my friend Jessie. It turned into a favorite serial of mine.

"Momma! Momma!"
"What is it, hon?"
"Come quick, momma! Somethin' on the Facebooks!"
She entered the room, wiping her hard hands on her threadbare apron, weary and bedraggled. What was Curtis up to now, when he should be shucking corn for supper. She looked around. He was nowhere near his shucking tub, instead, she found him in front of the computer, staring gape-mouthed at the thing.
"Look, momma!" he said, not turning around, perched on the edge of the rickety Windsor chair, the one they didn't trust for company anymore.
She could see he was covered in cornsilk, head-to-toe. At least that was something. At least he had started. She and Joe had argued for hours- well, maybe not argued, but certainly debated, hotly- about whether or not to get the darn thing, the computer. In the end Joe had won out, but then they realized there was nothing on the internets but time-wastin' and dirty business. Most of the time little Curtis spent on the darn thing was with one of them peering over his shoulder, just shaking their heads when he cackled over some "Lawlcat" or such.
"Momma, a pretty lady done gone crazy on the Facebooks!"
What was this? She peered down and looked closer. Her eyesight wasn't what it used to be, since the fire at the mill. A hard year, that was.
"Momma, they're fightin' in front of everyone on the Facebooks!"
Peering closer, she finally saw who he was talking about: two people, a man and a woman, engaged in a conversation of words, posted for everyone to see. She read slowly, the only was she could, sounding the words out carefully, not letting Little Curtis hear, lest she have to explain that no, his momma could not read as well as she should, but she'd be damned is he grew up with out a decent education. At least there was that.
The man in the conversation was handsome, that much she could tell from his, oh what did they call it? His "Profile Picture". Rugged and brave-looking, his head thrown back in a laugh, and a light, scraggly beard on his face…agreeable enough, she thought, lingering on his face a little too long. Why, if she was just a few years younger, with Joe out of the picture…She shook her head, clearing it. Now for the woman.
She looked closer. The woman looked pretty enough, with kind eyes, but upon closer, but difficult inspection (damn that mill fire! she thought briefly), she thought she saw a certain- mania?- behind those kind eyes. Yes, yes, she was certain now, this woman was mad. Madness personified, p'raps…there was a hardness behind her kind countenance that came only with the loss of sanity. She had seen that look before, once, when she traveled up to the city to visit her distant cousin Dot in the sanitarium. Dot seemed well enough, but then started talking, and revealed herself to be the madwoman that this woman clearly appeared to be.
She read the dialogue between them. The woman started making logical, cogent points, but then lettered her "letter C" points twice…Betty sighed. Hope this woman didn't have a family. Or, God forbid, if she did, she hoped they loved her enough to get her help. To love her, despite her raving lunacy.
Betty stood straight, and then instantly regretted it, holding the small of her back with a flour-covered hand.
"Come on, Curtis, back to shuckin', mister."
"Aw, mom…" he started, but silenced when she gave him a sharp look. He wasn't a bad child this one, nossir. He sulked back to the shuckin' tub and got back to work.
Betty went back to the kitchen, rolling out the dough, looking out the kitchen window at the setting sun. Joe would be home soon. She had a good life, despite the hard spots…you could always rub those out, rub them out like a sore muscle. She liked her life. And unlike the madwoman, what was her name, Jessie? A boy's name, that was. Unlike the lunatic let loose on the Internet, Betty had her sanity.
At least there was that.
Continue to Little Curtis Part 2