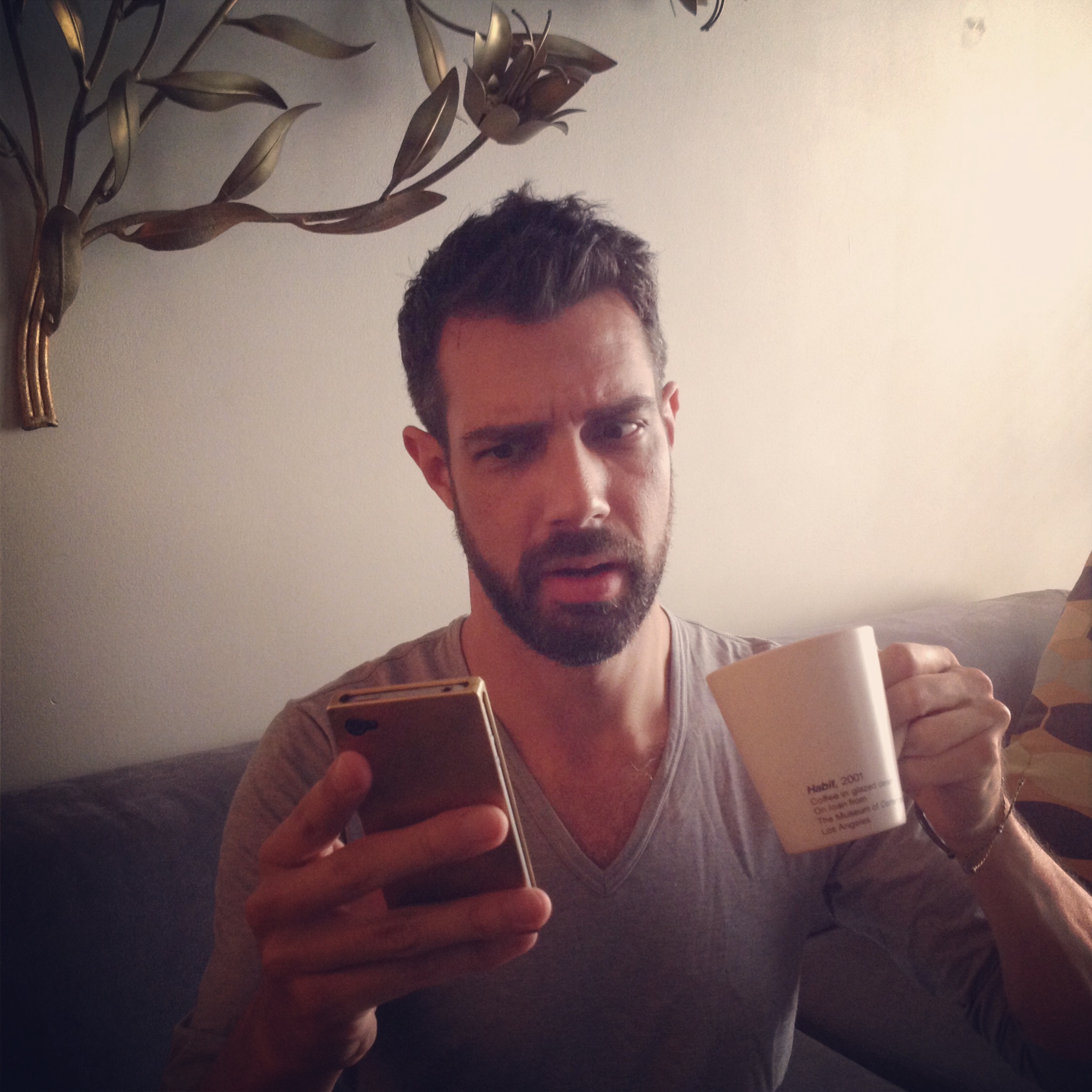 It's no secret that being single in Los Angeles or Portland, well, being single anywhere, can be a drag. Cities can discourage "mental proximity", which is what I call it when you connect with someone on a fun, emotional, reciprocal level. I've been single for a year and a half now, and I think it might be one of the longest times in my life I haven't been in a relationship (my friend Julie has a theory: I'm basically unlovable. She might be on to something!). I think I'm supposed to say that I'm having a blast, insist that I'm just fine being single, and that I'm at my best without someone…there are people like that. But I'm not. It's not fun. I'm awesome-er with someone. And I've come to the realization that it's because I'm starting to feel like a time-traveler. I tend to date guys for long periods of time, so every time I emerge from a relationship, I need an anthropological Field Guide to the gay men of that era.
I met Max in college, in New Mexico, and he was an ideal first boyfriend: he was kind, smart, and creative (for this post, all names have been changed, because duh. And I have shown the first draft of this post to most of the guys mentioned here, for accuracy). We fell in love to Extreme's "More Than Words", and earlier in the year, I had graduated high school to Boyz II Men's "It's So Hard To Say Goodbye To Yesterday". This was 1991, and he stayed by my side when my brother passed away on New Year's Eve that year (holy shit, I sure manage to work that in everywhere, don't I?). We were together for almost two pretty great years, and when it ended, I wasn't in a rush to find another boyfriend. In fact, I didn't date at all, I just kind of lived my life and worked a lot. I didn't really experience the time-traveler phenomena yet.
In 1996 I worked in Old Town, a historic area in Albuquerque also known for being a bit of a tourist trap. A group of guys came in, and I locked eyes with one of them: instant sparks. Mark and I talked quickly, traded numbers. No, I didn't put his number in my cel phone, or Facebook him; this was before those existed. We quickly connected over the phone, and then the bombshell: he actually lived a bit north of Chicago, and was moving to the city soon. I was undaunted by the distance at the time, and continue to be. Chemistry doesn't grow on trees, and anyone who thinks they're going to find true love solely within 10 miles of where they live is fooling themselves, and might be in for a long road.
Over the course of the next few months, Mark and I talked a lot on the phone, and wrote each other, and I visited a few times. Then I took the plunge: I happily moved to Chicago for him. It was a really great three years, but the breakup threw me for a loop (not a Chicago joke), and I didn't take it well. Later, I would write a Douglas Coupland-inspired piece of fiction that echoed my feelings at the time of the breakup. This was when I first felt like a time traveler.
So what the hell do I do now? I thought at the time. Gay bars? Ok. In New Mexico there hadn't been a lot of those, but I was game: I tried out the Chicago gay bars, and although fun, I wasn't finding what I was looking for at all. I had been spoiled by how quickly I connected with my first two boyfriends, and I've always been a little old-fashioned. This was 1999, and everyone was "Livin' La Vida Loca" but me (so, so sorry: I had to). I felt like a fish out of water, and had no idea where to find someone with similar interests. I moved to Mexico for a few months to live with my mom in San Miguel De Allende and lick my wounds, then went back to Albuquerque, and then made the jump to Los Angeles in 2001.
I had my day job at Williams-Sonoma, but needed a second job to make ends meet, so I became the coat-check guy at Micky's dance club in the heart of West Hollywood for three winters. I was totally unprepared for the debauchery and craziness I saw beyond my window of sobriety, but it served a great purpose. I got to be as social as I wanted, it felt like going out a few nights a week, but I didn't wake up regretting decisions I made the night before! The job quickly acclimated me to dating in West Hollywood in the year 2001: meeting quickly, the rapid evaluation of whether someone was dateable, and the exchange of numbers in each others' bulky Nokia cel phones. "Let's go get sushi and see Amelie or Moulin Rouge!"
I met Christopher in 2002, and it was a slow, reluctant burn of mutual attraction. It was both those things because we worked together, and he was my boss. Eventually we gave in to the attraction, came clean with our supervisor, and her boss too, and were separated to different workplaces. Christopher and I were together for 6 really great years, and when it ended, I was in a very strange place, emotionally. I wasn't prepared to date. Who the hell were these guys I was meeting now? What happened to gay men in the last six years? I felt I now had to subscribe to be a "type": am I a bear? A twink? An otter? A jock? A nerd (probably a nerd)? It was then, in 2008, that I discovered online dating.
Daniel I met through Chemistry.com, and although our personalities may not have meshed smoothly, I felt myself compromising on a lot out of sheer loneliness. You walk everywhere, that's actually really admirable…wait, you won't accept a ride from me? But you're gonna show up at the restaurant a half hour later than me…ok. Oh, you occasionally do blow, and you told me that right after I told you my brother OD'd on coke and heroin? Um, okay you charmer! Oh, you invited me to go to a friend's wedding with you as your date, and then stopped returning my calls that same week? Er, yeah, I think we're good. Good luck on your journey, friend. Stay classy, My Entire Life.

I switched to Match.com. Match asked a few more questions, had more transparency, and I felt excited and hopeful: Yes! It knows what I want! Yeah, I'm totally looking for someone "athletic and toned"! Oh my gosh, he likes reading too! I went on date after date, but without much success. For the most part, the guys were really great, and I still count a few of these guys as friends. But inevitably there wasn't chemistry, and I wasn't used to "dating", per se. I had found my previous boyfriends just by living my life and letting them find me. This, this strange, unfamiliar online dating thing wasn't working…until all of a sudden, it did. And, once again, the dude wasn't living near me.
I met Kevin through Match in 2009, and though we had vast ideological differences (he was a conservative ex-Mormon, and I come from a Catholic, liberal, Latino and German family), the attraction was mutual and powerful. He lived in Orange County, and eventually made the move up to Los Angeles. We broke up in February of 2012, but I count him among my closest friends, and we regularly see each other and catch up.
When we broke up, I tried out both Chemistry and Match again. Wow. Yikes. No judgement against anyone reading this who's on there still, but it felt like The Island of Misfit Toys from the old Rudolph the Red-Nosed Reindeer stop-motion animation special. Those sites are now truly the Friendster and MySpace of online dating, respectively. When did this happen? I was with Kevin for two and a half years, and already the world has moved on from these sites? So, again feeling old, and like I needed a Field Guide to The Gays Of The 21st Century, I found OKCupid.
Oddly enough, it's been pretty great, and has helped me truly define what I'm looking for in the future. I try not to take it too seriously, and my profile is kind of a test bed for jokes: "If you have nice legs I'll ignore your personality flaws", and "I'm not saying I occasionally drink box wine. But I'm not saying I don't. Later, you will remember this as "red flag #1″." Yup, COMEDY GOLD.
…Then I met Joe, who flew 1,000 miles to meet me in Los Angeles. We barely talked beforehand about what we each expected from his trip, and I fell very quickly. We weren't really ever a couple, he's just a huge part of my journey (YUP, LINKED IT TWICE IN ONE POST, JERKS). Ahem. Moving on.
So now I'm in Portland, and I'm having a blast exploring the city's secrets and meeting great people. I am a magpie in a city made of tinfoil. Occasionally I'll get the question: "If we date, are you gonna write about it on your blog?" Um, no, not unless A) you're a major dick to me, or B) you make me relive adolescent trauma by how strangely abrupt and total your rejection of me is.
And then I stumbled upon Scruff. What the fuck? You're putting this on your blog? Yes, my ex Kevin encouraged me to try it out. It's an app, widely regarded as a gay "hookup" app, a la Grindr. Uh, no thanks, not my scene. No judgement, we're all in this together, and I think hookups are fine. It's just not what I'm looking for. I'm old-fashioned. I'm looking to date, preferably long-term. "No," insisted Kevin, "there are people looking for relationships and friendships on there." Of course, this led me to imagine telling my future kid how I met their other dad on Scruff, when I only knew him by his profile name, "FistingPig69". "Yeah, I knew it was true love when he sent me a Snapchat of his junk." So I tried the app out, and have met some pretty damn amazing guys through it. Of course, more often than not, there are interactions like this one I had awhile back, in Los Angeles:
Him: Hi
Me: Hey!
Him: You were REALLY close to Slammer last night [note: Scruff has a proximity function, so you can tell how close an individual is when you view their profile]
Me: WHAT IS SLAMMOR
Him: A sex club on Beverly right by Vermont
Me: HOLY SHIT DO PEOPLE GET SLAMMED THERE?
Him: …
Me: LIKE IN DOORS?
Him: What does it mean to "get slammed?"
Me: …
Him: Mostly just lots of sex, usually bb.
Me: *swoon*
Him: I can't tell how facetious that swoon is 😉
Me: FUCKING MARRY ME IMMEDIATELY
Yeah, I'm an asshole. And yeah, it's rare that I find someone else on there willing to take dating slow, or be monogamous. I still regularly get what I call the "Morning Surprise" (waking up to a totally unsolicited picture of a stranger's genitalia). But holy crap, I'm not the only old-fashioned guy on there. Maybe this, and other apps like Tinder, are just how it's done now. I have to adapt to my environment again. The apps are what we make them. Or do I just need to delete it all: OKCupid, Scruff, Tinder, everything? My friend Summer forwarded me an awesome article about how Facebook changes the way our brain processes dopamine in search of stimulation and approval, and there's no reason to believe that dating sites and apps don't have the same effect. I might have to just stop looking for it.

And that's where I am now: a fish out of water, a stranger in a strange land (and new city), a gay, single time traveler in an unfamiliar era. But I'm learning that it's okay to be a little bit, maybe a lot, different. I'm not going to apologize anymore to guys for being old-fashioned. I'm finally realizing that maybe we all feel a little out of place every time we come out of something, and that we're all muddling through and doing the best we can. Not just gay guys, but all single people: straight, bi, trans, and everything on the spectrum.
None of us have Field Guides. And maybe we're all time travelers.
Here's Part 2 of the series, about my worst date ever, because nobody everybody likes a sequel. And here's Part 3, where I realize, with horror, the common denominator that a lot of the guys I like have.