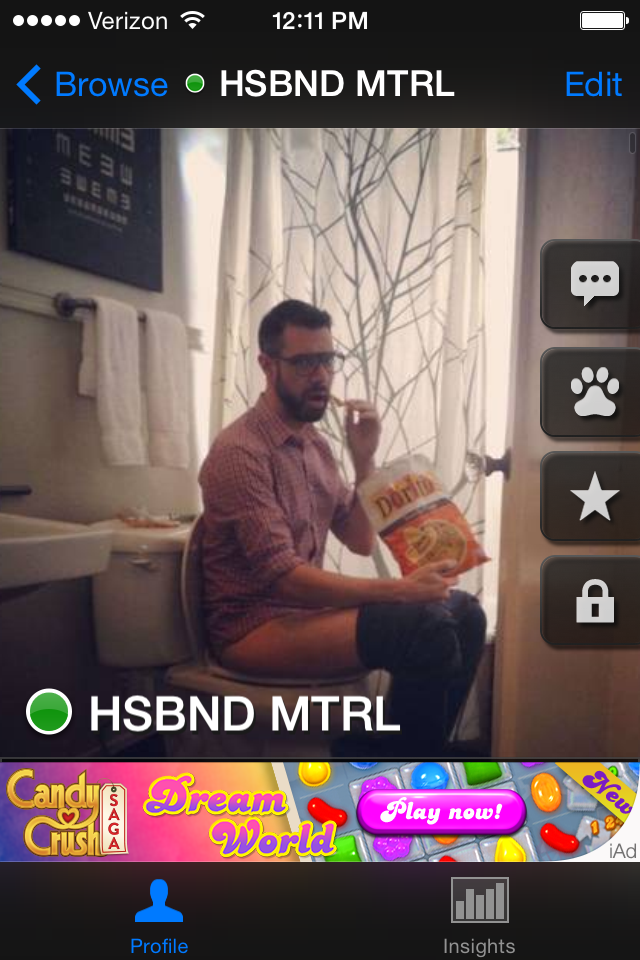 So I'm standing there in front of the bathroom mirror in my apartment the other day with my shirt off, trying to take a selfie with my phone. I'm heartbroken, because swimsuit season is coming and my naked body looks like it's covered in cargo shorts. I'm jockeying for a better angle, and then I drop my phone, which has a stupid-heavy case. It hits the glass soap dispenser on the way down, shattering it and terrifying my cat Ned, who has come into the bathroom to maybe drink some toilet water. He's startled and knocks some decorative stuff off the top of the commode into the toilet bowl.
After he runs out of the bathroom through the pieces of glass, tchotchkes, and a possibly broken phone, I take a long look at myself in the mirror. How did it get like this? I think. What the hell has happened to romance and dating?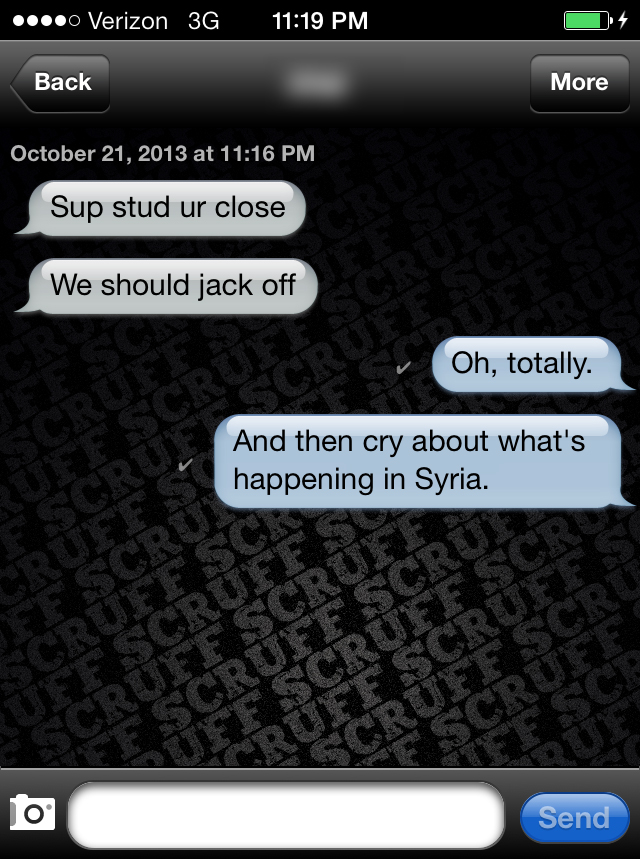 I was taking a torso picture for a dating app called "Scruff". To the uninitiated, this is an app for gay men that consists of a few "grids" that are thumbnails of available gay men. Some are local, some are far away. Some are looking for sex only, some are looking to make new friends or network, and some, like me, use it to date and look for relationship material. I am Alanis looking for her next Dave Coulier.
I got on Scruff in December of 2012 after a pretty harsh rejection. I was in a dark place and seeking connection, seeking proof that love existed somewhere, anywhere. As I wrote in the first Single Gay Time Traveler Seeks Same piece, my ex Kevin encouraged me to go on it, and so one night I downloaded it and made my profile. Some guys have a landscape as their profile picture, some guys are fully clothed, and a lot of guys have a torso shot, which is why I find myself in my bathroom on a Saturday morning with no shirt on, picking up broken glass and making sure my phone (MY PRECIOUSSSSS) is still working.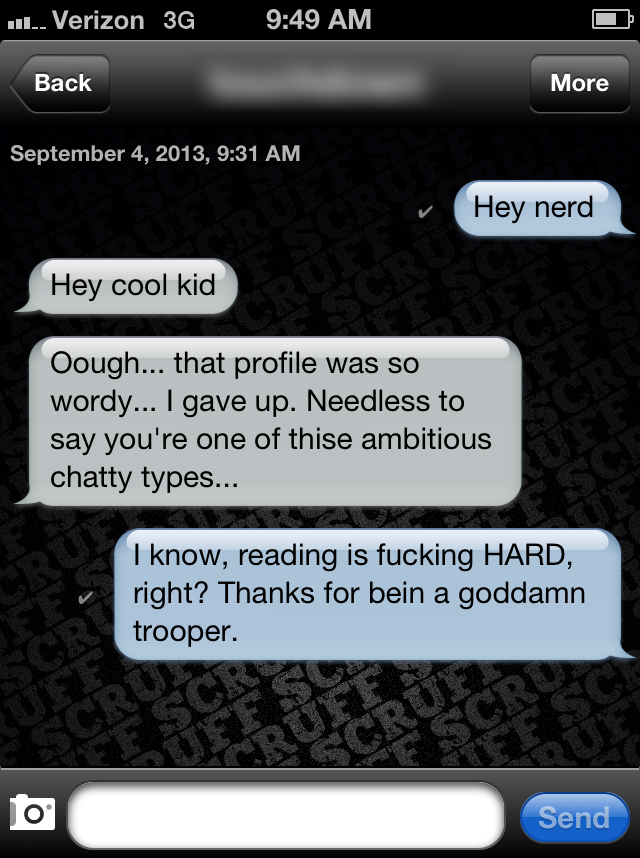 My first impression of Scruff was pretty intense: tons of interesting, attractive dudes with different levels of availability. I'm currently in the longest period of my life that I've been single, and my prior long-term relationships have insulated me somewhat from the realities of gay dating culture. There are a lot of open relationships out there. There are couples looking for a third. There are guys who date transgendered people exclusively. I felt like my eyes were suddenly opened to so many possibilities, so many different flavors of love I hadn't considered before. I think the previous dating sites I was on before encouraged me to narrow my definition of what I was looking for so much that I didn't even consider anything else.
The drawback to Scruff, and really to any social media, is that it seems to encourage a disconnect between how we treat each other online and how we interact in person. I've had so many instances where I started a conversation and the other guy replied, and was attentive, conversant, and asked a lot of questions, and then suddenly fell off the face of the earth. No, I'm not going to pretend that I haven't done that too. I'm far from perfect. I yell "fuck" around small children. I laugh when my cat stretches and turns over and falls off the dining table. And yes, I sometimes drop the ball in online conversations.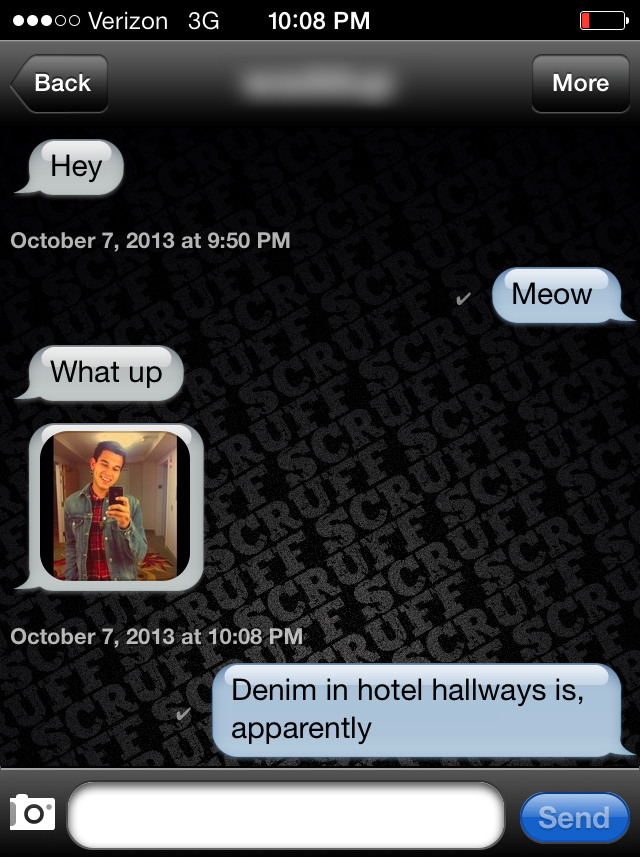 But one thing Scruff has done is codify my own "social media policy" for myself. It's helped me solidify and define an online code of conduct that works for me. I'm not saying this would work for everyone, but I try to treat online interactions the way I do real life. This means I'm occasionally shy, mostly friendly-not-flirty, and definitely sarcastic. I reply when spoken to. I thank people for compliments. I'm honest if I don't think there would be chemistry. If someone asks what I'm looking for, I'll tell them.
How has Scruff changed my dating life? Well, it means I date long-distance a bit more than other people do since I've been on it. Like I've written before, although I wouldn't ever say I prefer dating long-distance, I think I'm just naturally built for it, since I'm loyal as hell to someone when I'm dating them, and prone to trusting others.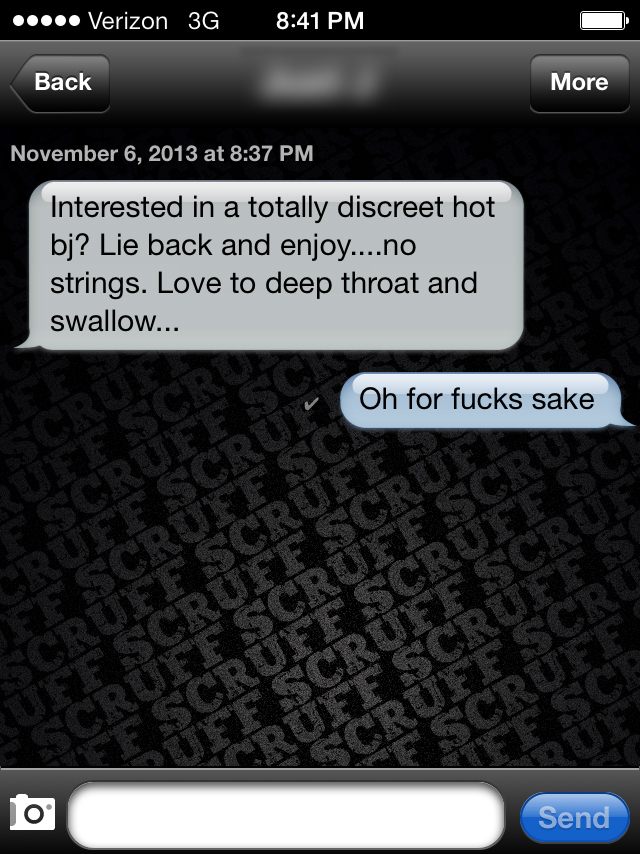 Although an app that shows you a million available attractive guys would seem to encourage promiscuity and dating multiple people simultaneously, I don't really like dating more than one person at a time (No judgement implied, either: human sexuality is a big damn spectrum, and I have no place to judge anyone's sexual politics but my own). But seriously, who the hell can keep up with all that information? I swear it gives me major anxiety when I have to remember more than one guy's parent's names, or where he's from, or his favorite food. It terrifies me that I'll slip up and ask how someone's mom is doing and they remind me she died 10 years earlier and I was thinking of the other guy's mom after all.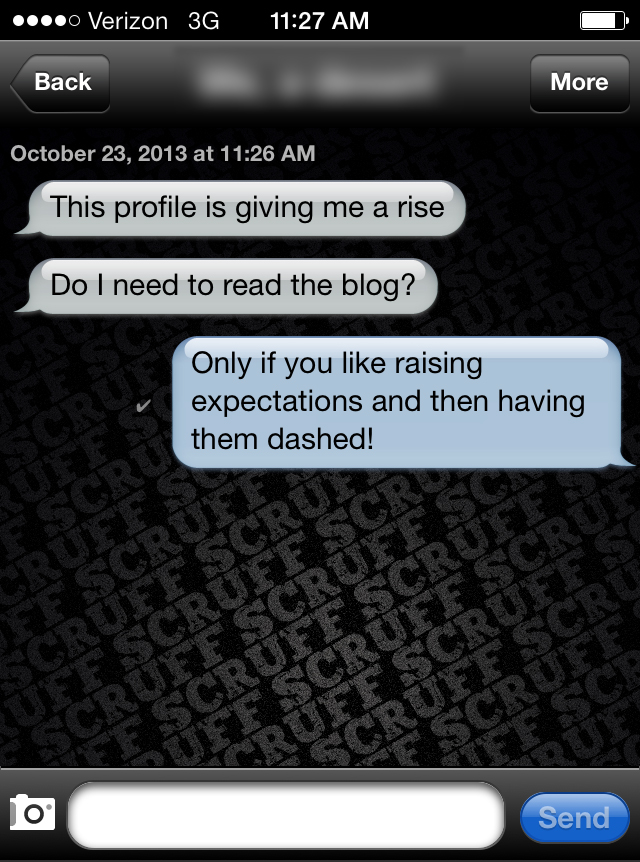 Interacting online has also helped me realize that I like to graduate to an in-person meeting as soon as I get a good vibe from the person. My worst dating experiences have been from a long lead-up to an eventual in-person revelation that the person doesn't quite look like their photo, or there's no sexual chemistry in person, or the guy didn't do his homework and isn't ready to meet romantically yet. There's no substitute for the chemistry that happens between two people when they meet face-to-face.
The worst thing about my social media philosophy, of treating people online exactly how I do in real life? I expect the same in return, and this leads to some weird interactions. For example, some guys like to put just a torso picture as their main photo, and then strike up a conversation. How would this work in real life? Well, if I was at a bar, and a guy walked up and started a conversation, and had no head but just a shirtless torso, chances are I'd be concerned. I probably wouldn't give him my number. In fact, I might casually scream and run out of the establishment.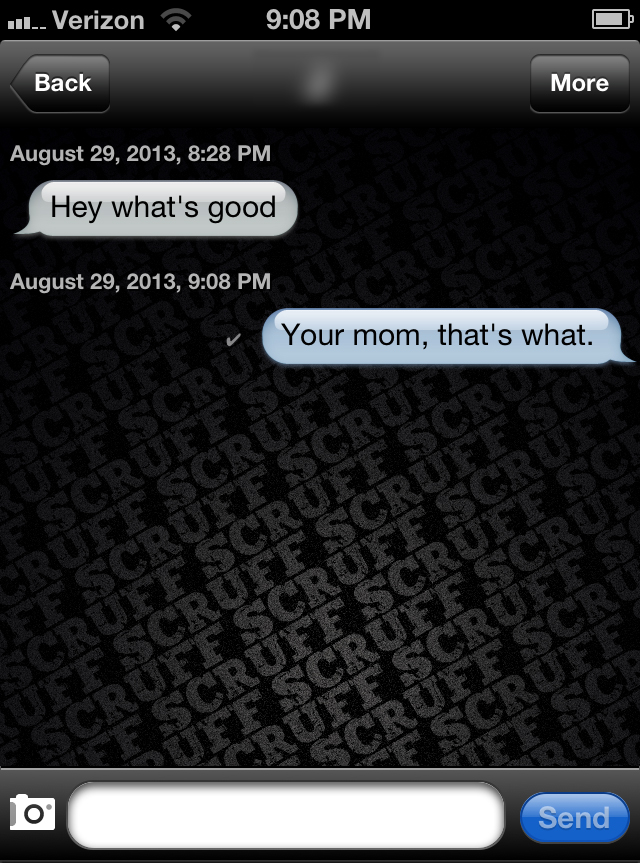 Another popular greeting is what I've previously called the "Morning Surprise", when I wake to a totally unsolicited picture of someone's genitalia…as their greeting. What would this look like in real life? Well, if I was sipping my coffee in the morning, and a disembodied penis walked up to me and said "hey", I probably would not be turned on. Chances are, I would thrown my coffee cup at it or try to stomp it flat with a nearby shoe. In fact, this whole scenario is silly, since everyone knows that penises can't talk. As a matter of record, they bow to greet someone. Duh.
Or the other ubiquitous greeting: "'sup?" Ugh. Seriously? Really? First of all, nothing, I mean, nothing is more boring than starting a conversation with that. Trust me, I've given you PLENTY to talk about if you read my profile. My profile pretty much calls out that I am so broken and so, so full of red flags it's not even funny. It talks about my interests. It talks about how I like to hike and bike a lot. It talks about the fact that I'm kinda old-fashioned. And the only thing you can say is "'sup"?! I'm likely to reply with something like "Oh, u know, just poopin'," or "Nothin', just gettin another round of chemo and thought I'd hop on Scruff," or maybe "Can't chat with u now, at mom's funeral. Txt u in an hour?" These are less effective at starting a conversation than you might think.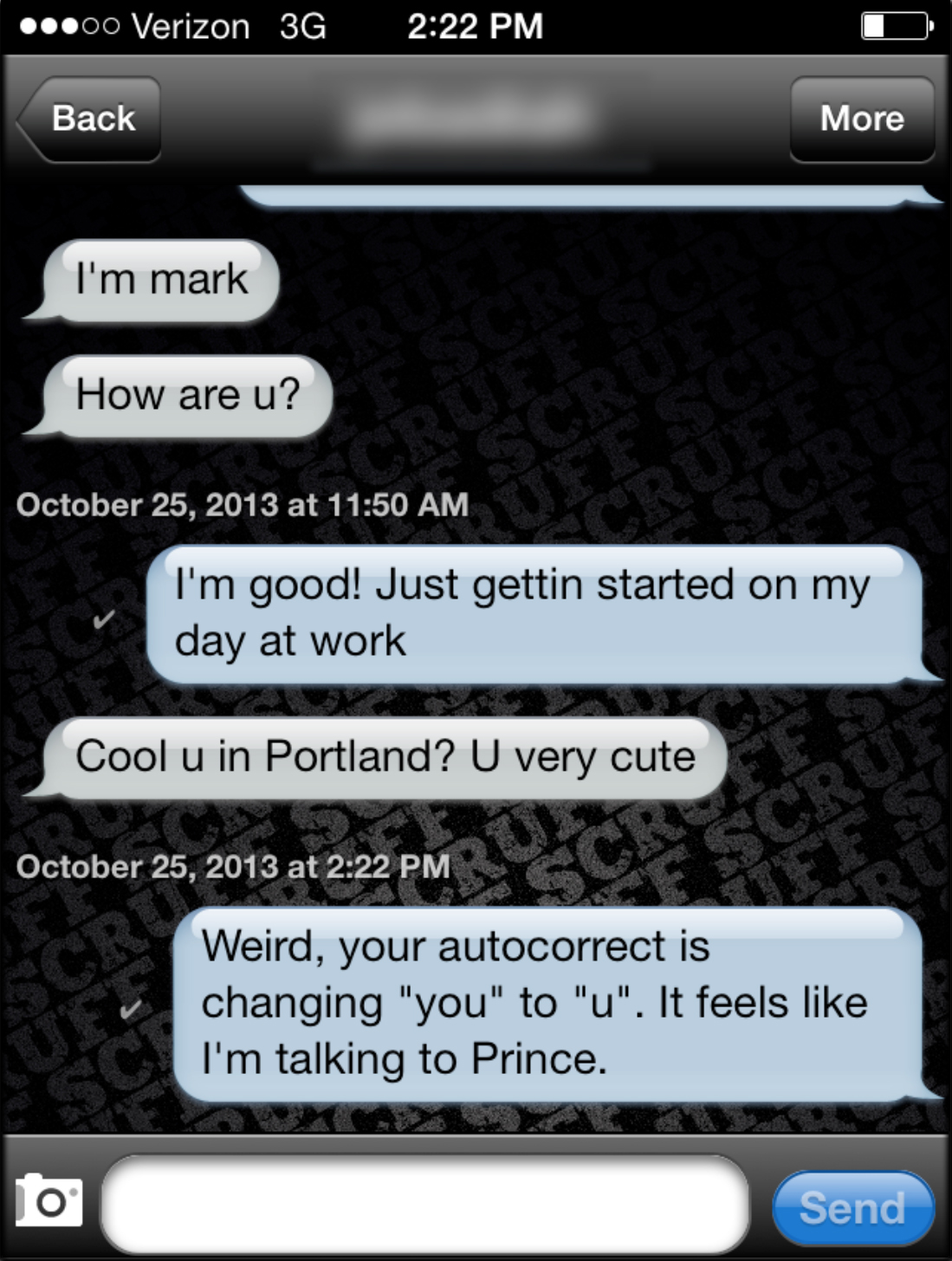 So back to the bathroom. I'm still picking up the shattered remains of my soap dispenser, wiping up the soap with a sponge. I find Ned in the kitchen, hyperventilating into a paper bag, and calm him down. I realize that yeah, I might be in the minority on Scruff, and that's okay. Everyone out there is just being who they are, and I'm in no place to judge anyone. In the end I gotta be who I am, and who I am is a guy who wears the gay equivalent of a burqa (i.e., shirt buttoned up to the second button).
I put my shirt back on. I take the picture. That's better.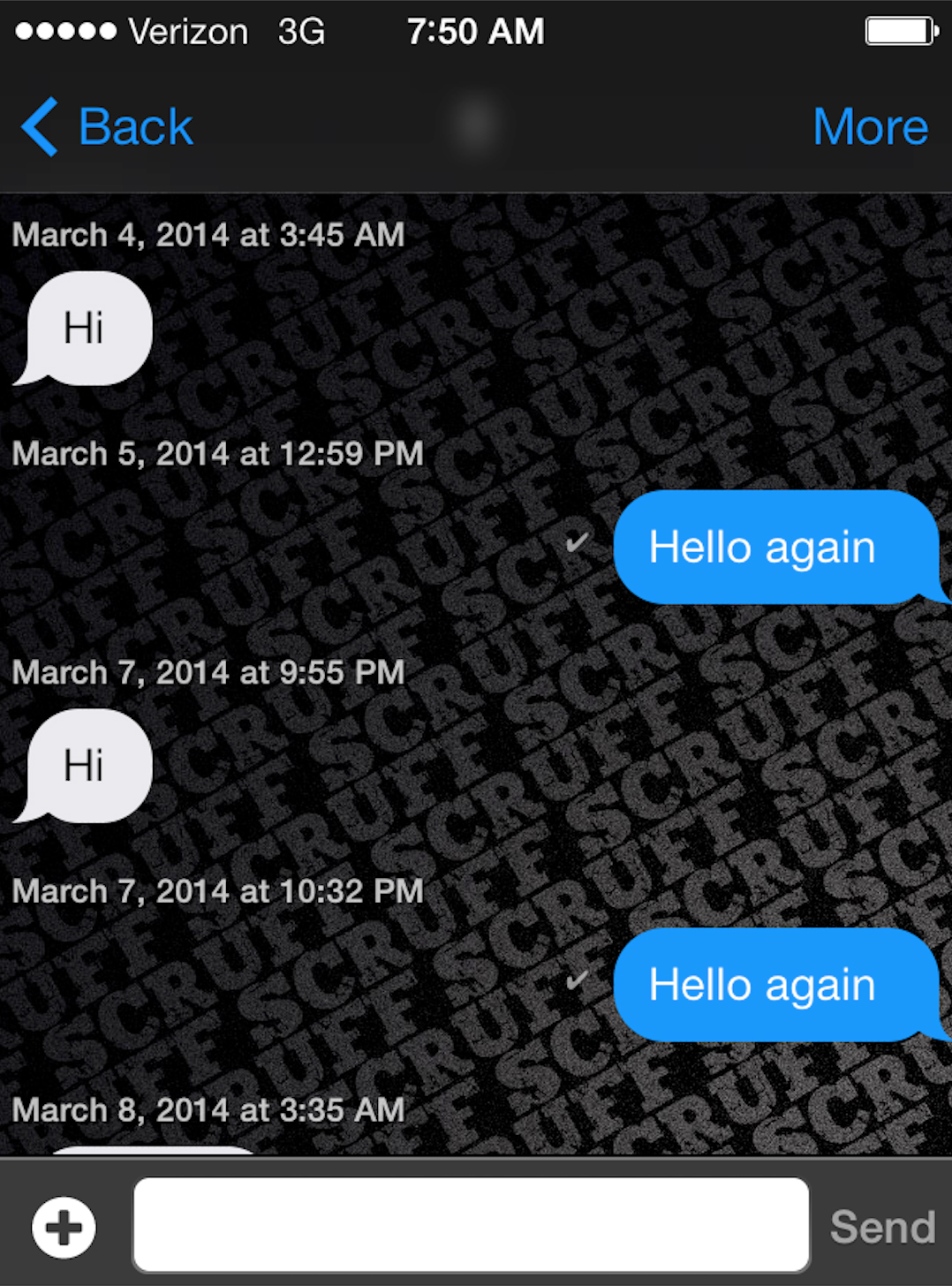 I'm broken forever! If you dug this, then continue on to Part Two of this series. Let's be horrible people together.