Who reading this hasn't had a labor of love, a creative project that they've been thinking about for months, or years, or their whole life? Well, designing (in Part 1 of this series), then creating the model (in Part 2 of this series) for the set of the West Coast premiere of Robert Kauzlaric's masterful stage adaptation of Neil Gaiman's Neverwhere, directed by Scott Leggett, was that project for me. And this week, that dream got even better when I connected with Mr. Kauzlaric, and asked him a few questions about his writing process, Neil Gaiman's fanbase, and what role staging plays in his imagination when he's writing.
After the break, check out our chat, a great "teaser" video with some of the people who helped bring this production to life, and a first look at the finished set!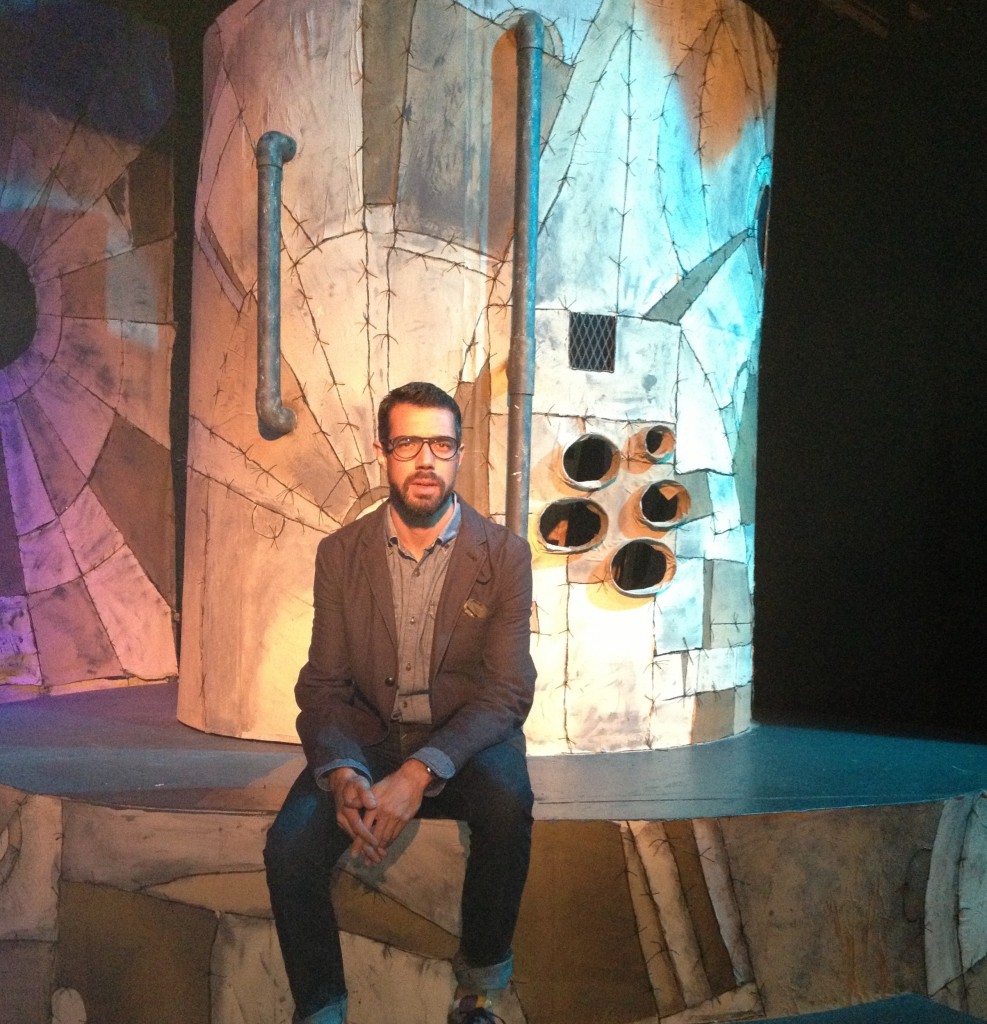 What was the biggest challenge of adapting the novel, and how did you solve it?
The end of the story was a tough challenge. First there's the parting of Richard and Door – which felt like it wanted a little more emotional heft in the live-onstage/flesh-and-blood version we were working on. (But without veering into trying to imply more of a relationship than the two characters actually have, ie a fully developed love relationship or something.) And then everything that comes after Richard's return to the surface – trying to find a way to concisely get across the feel, tone, and plot points of what is actually a fairly substantial chunk of time into a manageable segment that would work for the stage. The play is lengthy and taking too, too much time on what is (essentially) "falling action" at a point when the audience can smell the end coming, is a tricky business.We can debate whether or not I "solved" these challenges, but what lead me to the ultimate version we landed on didn't happen until I allowed myself to get comfortable with using the novel as just a guidepost for those sections, and worked to build a story that felt right for the *play* we were making, something that felt honest and true to our world, while still (hopefully) capturing the spirit of what Mr. Gaiman wrote. After many variations of trying to deal with the entire passage of time and all the interesting conversation points that take place in that section in the novel, I finally took my favorite bits and built something new-ish out of them, something that felt right for us. Hopefully it feels right for your production as well.
Did you cut anything that you hated cutting?
LOADS of stuff. Especially any delicious Croup or Vandemar line that had to get axed. =) But if I had to pick some specific things I miss the most they would be: all the extra Jessica stuff in the book that didn't make it to my adaptation (especially the whole Museum scene), the Sewer Folk stuff, and Sepentine interlude.
What are you most pleased with about the result of adapting NW for the stage?
It was a project that I spent 10 years of my life on, hoping against hope that the rights would ever get released to us so it could become a reality. After that much time with a passion project living only in my head, it was inexpressibly gratifying to see it all come to actual for-real life, to work on it with such a talented and geeked-out group of artists, and to receive such a wonderful, warm response from Neil and our audience (which came to see the show from all over the country and the world). Having all those people share in my love of something I loved like that was really a blessing.
Neil Gaiman has a passionate fan base. Were you worried about fan reactions?
Heh. Yes. Terrified, frankly. But at Lifeline Theatre here we almost exclusively do literary adaptations, and we've grown accustomed to delving into books and authors with rabid fanbases. All you can do is bring your own passion for the material to the stage and hope that others will a) be energized and engaged by that passion and b) forgive your inevitable blunders.
Was the adaptation process collaborative, or did you work on it alone? What was your process?
Our process at Lifeline is very collaborative. Over the many years I worked on the script before we got the rights, I had numerous readings to solicit feedback and criticism from trusted colleagues. Then once the show was greenlit I started working with director Paul Holmquist, who became a trusted partner in the script's development from that point forward as we put together our vision of what the show would ultimately be. Then we added a team of super knowledgeable designers and a group of passionate actors, all of whom added their own voices to the development of the piece. I was very lucky to be surrounded by such talented, insightful, and critical voices – the play wouldn't have become what it was without the feedback and criticism of all of them.
There are a couple dozen locations in the play. I knew pretty early on I would design an abstract set, not a literal one. When you write, do you give any thought to what kind of set the show will take place on?
Not really. I prefer to focus on the story and trust my director and scenic designers to work together build the physical world. But, that said, I was writing for my own theatre and its particular space and aesthetic, so I had a strong working knowledge of what *might* work, what *might* be done, etc., and exploited that knowledge to the best of my ability without (I hope) pigeonholing our designers into anything.
Are you coming to our show?
Boy oh boy, I would love love love to. I'm certainly hoping to do so, but recent travels are making it tricky to work out. Here's hoping, though. Fingers crossed. Break legs!
Thanks Robert, for providing such thoughtful answers!
So many people contributed so much time to this set build that it's impossible to list them all (they'll be in the program!), but special thanks go out to Mike Mahaffey, Dave Knutson, Andrew Amani, Glenda Suggs, and Alan Rhodes for their expertise and commitment (and yes, I already feel guilty for leaving so many names off who contributed such essential help).
The metal, originally used for a production of Grease, was donated by Sierra Fisk at Act1 Academy for Children's theater. In addition, there were other contributions of materials from partner theaters, and dozens of Sacred Fools company members went through their closets to find fabric to donate. This aspect of the set moves me a little bit: the set is a literal result of the spirit of community that Sacred Fools, and the Los Angeles theater community in general, exemplifies.
And finally, all the finishing touches, like hand-gluing knots onto every surface, and distressing and aging the fabric were completed. Approximately 2,000 hand-tied knots of thread were used to detail the set, as well as hundreds of yards of fabric.
This set is not a testament to my design, but to Ms. Bontecou's artistry, a temple to Neil Gaiman and Robert Kauzlaric's storytelling, and a manifestation of the generous camaraderie and talent at Sacred Fools. Get ready to be transported. Click here for tickets.
And, finally, here's a recap of the reviews, the great press, and an encounter with Neil Gaiman himself, in The Warp and Weft Part 4.